At the heart of our products sits a cloud-native, scalable, and high-performance central limit order book and matching engine. We have developed technology stacks for both traditional and digital asset exchanges and support interoperability with DLTs where required. From this base we have developed scalable end to end solutions deployed in no time and highly customizable in the box solutions for large scale exchange operations. 
Our technology is easily integrated into existing exchange ecosystems and enables a gradual shift away from existing components that need replacement or upgrade.
Matching & Trading Engine
Matching & Trading Engine as a Service - a New Way to Build Exchanges and Marketplaces
The state-of-the-art Exberry Matching & Trading Engine allows our clients to quickly launch marketplaces and exchanges that are both cost-effective and enterprise-grade technology.
Our engine enables you to offer trading for any asset – whether that is deliverable commodities via exchange-traded products and digital securities or a brand new asset that only you can imagine.
This cloud-native Exberry SaaS solution includes unrivalled matching and price discovery capabilities, fundamentally reshaping what's possible for marketplaces and exchanges today.
Finally, entrepreneurs like you can focus on building proprietary domain-specific modules, ecosystems, and communities around your innovative asset, while using all trading core functionalities as a service.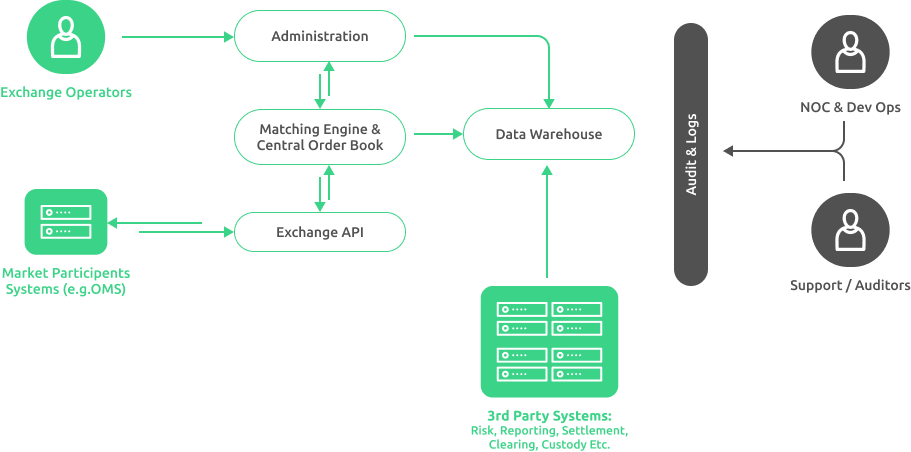 Engage with Exberry and together we will explore how Exberry best can help you through a series of calls with our crew of senior industry experts and serial entrepreneurs.
 Nebula takes the Exberry trading engines to the next level: Instantly launch your digital securities exchange and marketplace for any asset without programming a single line of code.
Time-to-market is a key component of success in today's markets, and Nebula makes you faster than ever before. Just configure your market, onboard your buyers and sellers, and immediately allow them to start trading.
Nebula is a complete turnkey solution that covers the buyer and seller onboarding process, allowing them to deposit money, configure the new asset (via tokenization or internal registry) and do all of that with a simple trading UI.
Nebula backed by our comprehensive exchange-grade trading engine that guarantees the highest trading standards.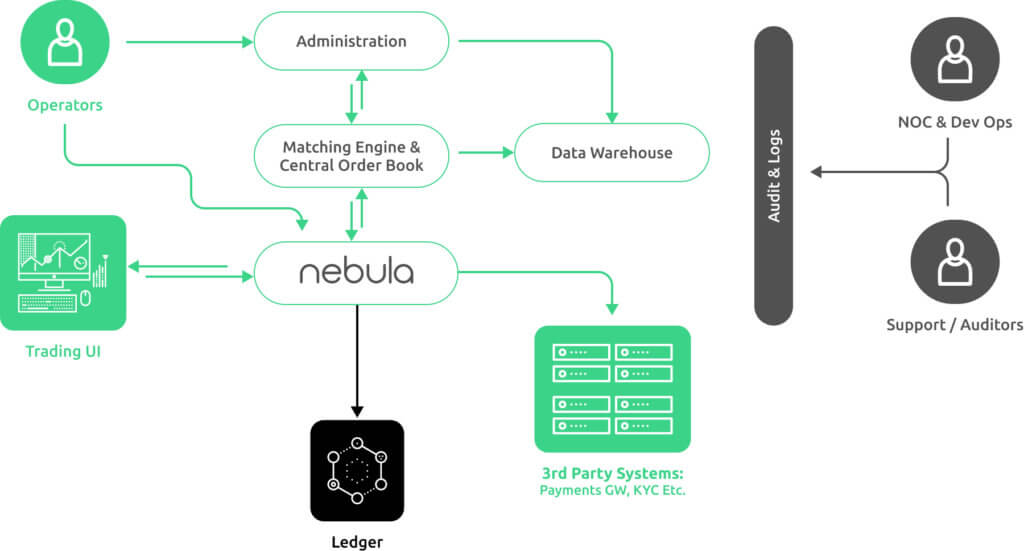 The Ultimate Technology Solution For National Stock And Digital Securities Exchanges: Cloud-Native Ledgers With Distributed Ledger Technology (DLT).

Cloud-Native
Introduces you to unprecedented operational efficiency. The market operator can finally focus on operating the business rather than spending time, money, and human resources on maintaining an aging infrastructure with legacy software.

Cloud And Distributed Ledger Technologies
Enables market operators to move faster – and cheaper – to the next asset types.

DLT Settlement
Allows immediate settlement while reducing risks and costs. It also ensures interoperability and shared liquidity between different jurisdictions and markets without having to add a complex intermediary structure

Exchange In A Box
Empowers you to rethink trading flows. We are committed to rebuilding existing markets and to building the future of newly born asset classes.