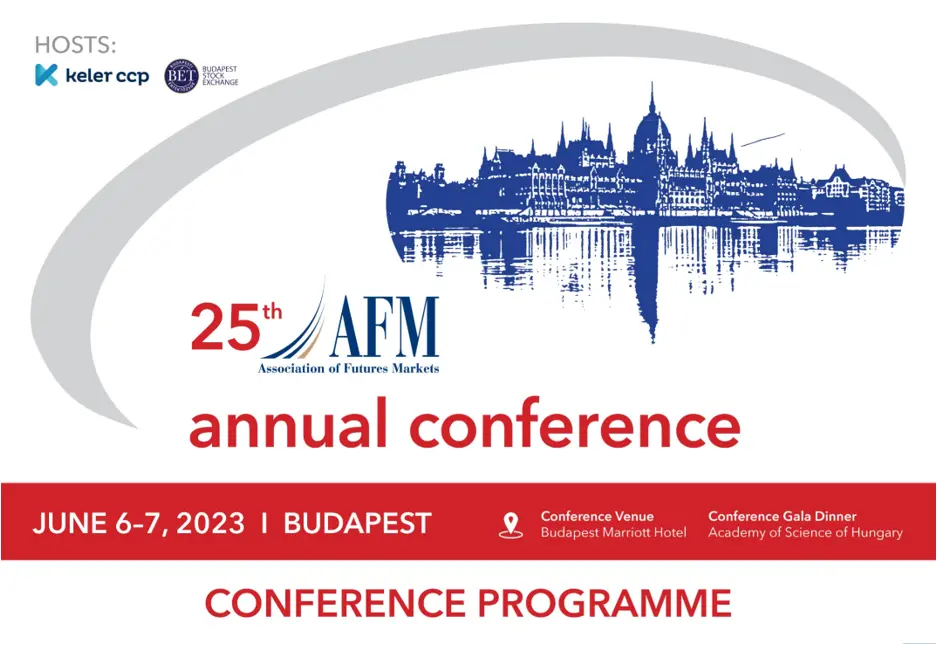 09:30 - 09:50

Welcoming Remarks

Mr. Pat Kenny, Chairman, Association of Futures Markets
Ms. Babett Pavlics, CEO, KELER CCP
Mr. Lajos Bartha; Chairman of the Supervisory Committee, Budapest Stock Exchange

09:50 - 10:10

Keynote Presentation 1.

Dr. Richard Sandor, Chairman&CEO, Environmental Financial Products, LLC; Aaron Director Lecturer in Law and Economics at the University of Chicago Law School (Pre-recorded)

10:10 - 10:50

Panel 1: Trading and Post-Trading in the Central and South European Markets: Is there a need/space for consolidation?

Current landscape | key players, most liquid markets | products | recent innovations | trends, future planned developments.

---

Moderator: Simona Simon, Client and ISV Trading Readiness, Deutsche Börse

---

Panelists:

Mr. Manyu Moravenov, CEO, Bulgarian Stock Exchange
Mr. Koblic Petr, Chairman & CEO, Prague Stock Exchange
Mr. Péter Nagy, Director, Budapest Stock Exchange
Mr. Ales Ipavec, President of the Management Board, Ljubljana Stock Exchange
Mr. Attila Tóth, Principal, EBRD

10:50 - 11:20

Coffee Break

11:20 - 12:00

Launch of the Thailand-Singapore DR Linkage

Panel 2: Exchange-to-Exchange Collaboration

Introduction by Michael Syn, Singapore Exchange; Video of the launch ceremony (pre-recorded)

---

Exploring the development of new products | Dual listing | Impact on investors | Co-branding | Other areas of cooperation?

---

Moderator: Marco Sartori, Senior Policy Advisor, Federation of European Securities Exchanges

---

Panelists:

Anelisa Matutu, Head, Commodities Capital Markets, JSE South Africa
Rinjai Chakornpipat, Stock Exchange of Thailand
Holger Bauer, Vice President Partner Exchanges, Deutsche Börse
Ivan Steriev, CEO, Macedonian Stock Exchange

12:00 - 12:40

Panel 3: Carbon Markets

Understanding the role of trading platforms | how these service a diverse set of both compliance and voluntary markets | What makes for an efficient registry service and what innovation can we expect to see in the project development space.

---

Facilitator: Paul Constantinou, AFM President

---

Moderator: Patrick Young, Founder, Exchange Invest

---

Panelists:

Richard Baker, Tokenovate
Hirander Misra, GMEX Group
Dennis Born, Aircarbon Exchange, ACX

12:40 - 14:00

Lunch Break

14:00 - 14:20

Keynote Presentation 2.

Denise Huang, Senior Vice President, Taiwan Futures Exchange

14:20 - 15:00

Panel 4: Use of option instruments in emerging markets

Real world examples of where and how options have supported and enabled development of emerging markets | The contra view of where and how options failed to have the desired impact | OTC versus on exchange – what works for emerging markets

---

Moderator: Nóra Szeles, CEO, Tokeportal.com

---

Panelists:

Denise Huang, Taiwan Futures Exchange
Chakkaphan Tirasirichai, Executive Vice President, Stock Exchange of Thailand
Chris Sturgess, African Commodity Exchange
Claudio Avanian Jacob, Managing Director, B3 Brazil

15:00 - 15:40

Panel 5: Commodity markets:

How markets are affected by climate change | risks because of dry weather, knock on effect of increased cost of feed for livestock on economy | hedging against feed prices | changing supply chains

---

Moderator: Chris Sturgess, AFM

---

Panelists:

Akinyinka Akuntunde, President, AFEX Nigeria
Vuyo Mpunza, Manager, Commodities Capital Markets, JSE South Africa
Alexandre Bobylov, Euronext

15:40 - 16:00

Coffee Break

16:00 - 16:40

Panel 6: Conclusions from Dubai: The Impact of digitalization on financial and commodity markets; Financial Literacy

Moderator: Hirander Misra, GMEX Group

---

Panelists:

Armenuhy Hovakimyan , Federation of Euro Asian Exchange
Magnus Almqvist, Exberry
Louis Hems, Dubai Gold and Commodities Exchange
Zack Hodgson, Securities and Trading Technology

19:30 - 21:30

Gala Dinner (Academy of Science)
09:30 - 09:50

Keynote Presentation 4: AFM 25 Years On, Emerging Markets 25 Years Forward

Patrick Young, Founder, Exchange Invest (Pre-recorded)

09:50 - 10:40

Panel 7: Energy Trading

Challenges in energy-trading and energy-clearing space in the European Energy Crises | Statistics, facts, figures. Lessons learned. | What changes are anticipated (either in regulation or in developments by key players based on lessons learned | New contracts eg. LNG futures

---

Moderator: Balázs Felsman, Chairman, Hungarian Energy Traders Association

---

Panelists:

Mátyás Vajta, HUPX
Dr. Tamer Emre, Director for Market Operations, EPIAS
Tamas Migaly, Energy Broker, 42 Financial Services, Czech Republic
András Hazlach, Chief Proprietary Trading Director, MVM Partner Energy Trading Ltd.
Babett Pavlics, CEO, KELER CCP
Peter Blogg, EEX

10:40 - 11:10

Coffee Break

11:10 - 11:50

Panel 8: Navigating the multiplicity of exchange hosting and connectivity options

Is there a single stand-out solution or are we looking at a hybrid, best of breed situation| Exploring the argument for cloud-based exchanges | Which route offers the best blend of benefits such as increased scalability, agility and cost efficiency | Understanding the overall impact on the world of capital markets of moving away from the tried and tested approach.

---

Moderator: Guy Melamed, CEO, Exberry

---

Panelists:

Oluwafunto Olasemo. VP Financial Markets, AFEX Nigeria
Mbithe Muema, Chief Business Officer, Nairobi Securities Exchange
Hamish Adourian, Head of Sales and Marketing, Sinara
Michael Smith, Exactpro

11:50 - 12:30

Panel 9: Clearing

Reduction in time to clear transactions | Continued expansion of cleared product set | How can CCP support the continued development of emerging markets eg. improved risk management attracting international traders

---

Moderator: Rafael Plata, Secretary General, European Association of CCP Clearing Houses

---

Panelists:

Bruce Savage, Head of Europe, Futures Industry Association
Tamás Horváth, KELER CCP
Thorbjorn Bors, Baymarkets
Stuart Turner, Avenir Technologies

12:30 - 12:50

Select Reminiscences of AFM25

Roderick Gravelet-Blondin, Honorary Member, AFM
Gergely Horváth, Honorary Member, AFM

12:50 - 12:55

Invitation to AFM 2024 Annual Conference

12:55 - 13:00

Concluding Remarks

Paul Constantinou, President, AFM

13:00 - 14:00

Lunch Break

14:00 - 15:30

AFM General Assembly (Members Only)
KELER
CCP
---
is a leading EMIR licensed Central Counterparty Clearing House based in Budapest, Hungary. Continuing the clearing activity of its mother company, KELER Ltd.; itself being established in 2013, KELER CCP provides clearing and settlement services for a wide range of asset classes, including equities, bonds, derivatives, and energy products. Supervised by the Hungarian National Bank, KELER CCP is fully compliant with the EMIR and the CPSS-IOSCO PFMI. KELER CCP is also an active member of international organizations such as the EACH and newly the CCP12, contributing to the development of the global financial industry. With a commitment to innovation and service excellence, KELER CCP plays a crucial role in promoting the stability and integrity of the Hungarian capital  and energy markets, supporting the growth and development of the industry in the region.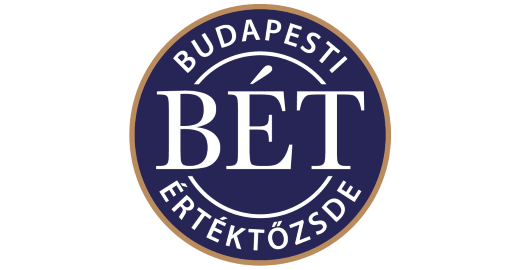 Budapest
Stock Exchange
---
BSE's mission is providing access to capital for Hungarian companies and investment opportunities for Hungarian households, domestic and international investors.  A key focus is on capital market presence of small and medium-sized enterprises, for whom BSE developed comprehensive mentoring and support services.  As the successor to the first Hungarian stock exchange, founded more than 150 years ago in 1864, the Budapest Stock Exchange plays a pivotal role both in Hungary's and the Central Eastern European region's capital markets. In the last two and a half decades, Budapest Stock Exchange evolved into a highly innovative market in the region: it was the first to introduce options and futures trading, pioneered the listing of exchange-traded funds in the region, and was among the first to use central counterparty services, an essential component of the safety of settlements, in collaboration with KELER. Today, BSE offers investors the broadest range of products in the region. Alongside equities and debt securities the range also includes investment funds and structured products, as well as international equities. Its derivatives market encompasses not only futures and options trading, but also a foreign currency market with the highest trading volume in Europe and a commodities market which is unique in the region. BSE is powered by Xetra, one of the fastest and most reliable trading systems in the world.
MVM
---
MVM Group is a predominant player of the Hungarian energy system, assuming an eminent role in implementing the country's energy strategic targets through its successful and competitive activities. MVM Group's expanding portfolio covers the entire Hungarian energy sector. Through its supplementary services (e.g. IT, telecommunication, financial and security services) the Group is prepared to provide full-range services for the increasingly complex consumer's demands in a one-stop way.
MVM Group is the 2nd largest company in Hungary, and the 10th in Central Europe. It is a dynamic, innovative fully state-owned company group continually gaining dominance also on regional level, acting also as the largest domestic energy knowledge centre, and through its professional competences offering significant contribution to the security of supply in Hungary and Central-Eastern Europe.
Keys indicators: active presence in 23 countries, more than 140 subsidiaries, HUF 7648 bn revenue, approximately 3% contribution to the Hungarian GDP, more than 18 000 employees, nearly 10 million household and company clients, 70 % share from the country's power generation, indispensable role in Hungary's renewable energy generation, nearly 50 % market share in gas supply of industrial consumers and 100% of household sector through universal service providers.


ICDX
---
ICDX provides facilities and infrastructure to its members to conduct prime commodity transactions and enforce laws and regulations to create a fair, transparent, cost effective, and well-organized market as a platform to form accountable and credible prices, and as a hedging tool.
With abundant natural resources in Indonesia, ICDX is able to facilitate national interest as a global trading center for prime commodities such as Gold, Crude Oil, Foreign Exchange, Crude Palm Oil (CPO) and Tin. ICDX collaborates with PT Indonesia Clearing House (ICH) and PT ICDX Logistik Berikat (ILB). ICH has a role as the guarantor institution for all transactions including managing risk management, margin, and transaction settlement. Meanwhile, ILB plays a role in physical transactions to eliminate country risk and also integrated logistics management system as end-to-end services.
TAIFEX
---
Taiwan Futures Exchange (TAIFEX), established in 1997, provides a wide range of futures and options products in equity indices, equities, FX and commodities. TAIFEX has continuously enhanced its technology and services in trading, clearing and settlement to ensure a fair and orderly marketplace. With a vision to be a world-class exchange befitting the fast-evolving marketplace, TAIFEX is poised to extend its global reach and stands as a primary derivatives exchange in Asia. For further details, please visit TAIFEX website at www.taifex.com.tw.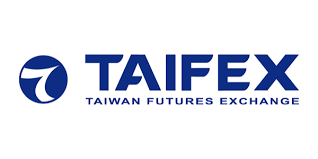 AFEX
---
AFEX harnesses Africa's commodities and talent to build shared wealth and prosperity. Its infrastructure and platform investments work to unlock capital to power a trust economy in Africa's commodities markets. Since its inception in 2014, AFEX has developed and deployed a viable commodities exchange model for the West African market and is on track to impact one million producers: providing services in productivity and value capture and access to finance and markets. By deploying an efficient market system, the company will facilitate trade with Africa worth over USD500 million in the next five years. AFEX's vision is to be the reference point for commodities in Africa. To achieve this goal, AFEX looks to introduce products that de-risk the sector, drive financial inclusion for rural communities, develop technology for data collection and market access, and enable capital development.
STT
---
STT is an independent, well-established, reputable, and highly professional South African based company specialising in the development of leading financial market software solutions. From STT's humble beginnings we have grown to become a significant player in the financial market software provider industry. STT's ever growing client base includes the likes of central banks, reserve banks, clearing houses, commercial banks, private and investment banks, brokers, insurance companies, trading houses, corporate treasury operations and central securities depository participants. STT has been the provider of IT solutions to the Johannesburg Stock Exchange (JSE) for the past 29 years, SA Reserve Bank and more recently WFE (The World Federation of Exchanges), NSE (Nairobi Securities Exchange), DSE (Dar es Salaam Stock Exchange), USE (Uganda Securities Exchange), NSX (Namibia Stock Exchange), TTSE (Trinidad & Tobago Stock Exchange), LuSE (Lusaka Stock Exchange), SEM (the Stock Exchange of Mauritius) & FMDQ OTC Exchange (Nigeria). Our company's future growth plans include cloud-based software, expansion into Crypto currency trading and blockchain distributed databases, as well as low coupling of software enhancements/changes/ that enables for singular modifications to extend to other modules and/or applications.


CQG
---
CQG is the industry's highest-performing solution for integrated trade routing, global market data, and advanced technical analysis tools. CQG partners with more than one hundred Futures Commission Merchant environments and provides Direct Market Access to more than forty-five exchanges through its worldwide network of co-located CQG Hosted Exchange Gateways. CQG's market data feed consolidates data from over seventy-five sources.
ACUITI
---
Acuiti is a management intelligence platform that provides operational analytics to our exclusive networks of senior derivatives executives. We offer our network of senior executives the opportunity to anonymously share ideas, data, attitudes and best practice with each other to benchmark operations and improve decision making. Acuiti works with derivatives exchanges across the world to identify opportunities, test assumptions.